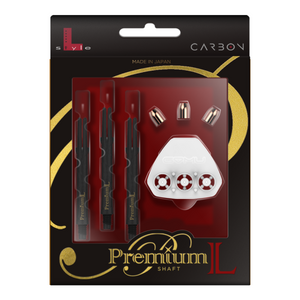 The main feature of this shaft is a small piece of metal inside the thread of the Carbon stem makes the shaft extremely durable.

The weight is a little heavier than original carbon L-style shafts, which gives you more choices from the weight perspective. The flight is held tighter to the shaft due to a slight modification. Premium L-Shaft CARBON comes with a set of Premium Champagne Rings and one set of GOMU shaft tighteners.

Comes in 130, 190, 260 and 330 lengths.